"BUT I REMEMBER MORE DEARLY AUTUMN AFTERNOONS IN BOTTOMS THAT LAY INTENSELY SILENT UNDER OLD GREAT TREES." — C.S. LEWIS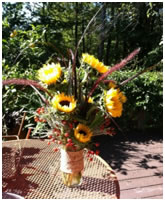 Trees & Shrubs

No more heavy pruning of shrubs & trees, unless it is absolutely necessary, so that new growth is not encouraged before winter.
It's not too late to plant trees & shrubs.

Annuals, Perennials &Bulbs

Bring out the potted mums!
Start preparing flower beds for cool season annuals.
Divide & replant perennials & bulbs that have become too crowded or too large; plant new bulbs too.

Fruits, Vegetables & Herbs

Harvest herbs & store in a cool place.
Plant or transplant cool-weather crops, such as beets, broccoli, cabbage, carrots, collards, & lettuce.
Put leaves & organic matter in the compost pile.

This & That

Clean houseplants that have summered outside & prepare them to return indoors. Re-pot, if necessary.
Be prepared for the first frost.
Enjoy the last tomatoes and other vegetables from the garden.
Fertilize the lawn, if necessary.

Just for Fun! Photograph your gardens & containers to record the year's triumphs & frustrations. You can also re-live warmer days by creating a virtual or analog album while wintering by the fire.
Did you know… September 23 is the Autumnal Equinox. There are two equinoxes during the year, falling mid-way between the Summer & Winter Solstices. The Vernal (Spring) & Autumnal Equinoxes are the only days of the year that have equal amounts of daylight & dark.
Back to This Month in the Garden
January February March April May June July August September October November December