"OCTOBER IS NATURE'S FUNERAL MONTH. NATURE GLORIES IN DEATH MORE THAN IN LIFE. THE MONTH OF DEPARTURE IS MORE BEAUTIFUL THAN THE MONTH OF COMING—OCTOBER THAN MAY. EVERY GREEN THING LOVES TO DIE IN BRIGHT COLORS." — HENRY WARD BEECHER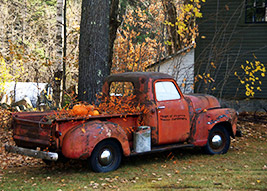 Trees & Shrubs

Remove any dead branches or limbs, just don't prune heavily.
Continue planting trees & shrubs so that they'll have time to establish themselves.
Apply a layer of mulch around newly planted shrubs & trees.
Take a walk around the yard, just to check the overall appearance of trees & shrubs. Are they healthy? Do any need to be removed?

Annuals, Perennials & Shrubs

Divide & replant overgrown perennials.
It's not too late yet to plant bulbs.
Clean up flower beds after the first killing frost.

Fruits, Vegetables & Herbs (Sow & Plant:)

Harvest & dry or freeze herbs for winter use.
Remove green tomatoes from the plants to ripen them in a brown paper bag or lift the entire plant and hang it upside down in a warm spot to allow the tomatoes to ripen.
Harvest winter squash once the vines die back, but before a hard freeze.

This & That

Move tropical or subtropical container plants indoors before the temperature drops into the 40s.
Apply a pre-emergent herbicide to the lawn to control winter weeds.
Clean & put away empty containers & garden ornaments.
Onion Sets ?plant your main onion patch asap if you are working from sets or starts.
Begin winterizing your garden
Clean bird feeders and houses.

Just for Fun! Enjoy the season. Show off your ahrvest with a fall displany of pumpkins, gourds, & mums.
Did you know… That the gorgeous fall color is caused by a breakdown of chlorophyll in the leaves? Without it, there is no photosynthesis & the leaves are no longer green. Did you also know that the tradition of carving pumpkins originated in the United States? In England jack-o-lanterns were originally carved from turnips.
Back to This Month in the Garden
January February March April May June July August September October November December